50 miles, ice, tylenol, wind,
Tuesday, October 30, 2007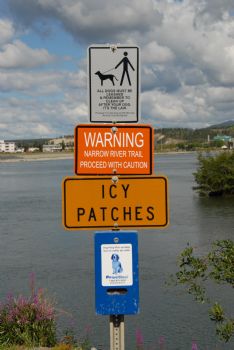 What started out as a bad run turned into a good one after all.
My poor knees didn't wantto run today, but that's too bad for them, took some tylenol they shut up!
The trail has been hit & miss with the ice. It's +4 today & the wind is 30km with gusts of 50km. So I put on my ice grips and for the first mile... NO ICE, grr it's not easy to run with those things and they make my knees ache. But then as we entered the wooded area There it was the never ending Ice rink and it continued for the next 2 miles. Slow & steady, the wind sometimes felt like I was going backwards. Eventually the wind was behind us and after the woods the ice was gone I took the grippers off and that's when I got a new pair of legs, Whoohoooooo. The last mile I was flying!! Hubby was kind enough to carry my grippers, I can't carry anything I'm too clumsy.
Here's the good news, I entered my mileage and I've hit 50.6 miles for the month!! Yipee, that's the most I've ever done.