So sad...
Monday, October 29, 2007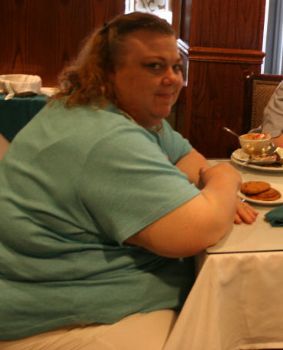 I came across this picture from last year's doll show. How sad is this? Sad that I looked the way I did, sad that I felt the way I did. I couldn't even force much of a smile to hide how I was feeling. I hardly know who that person is, but still, I don't want to forget her because I never want to be her again.
The last couple of weeks I've had to deal with an older woman at the gym. I made the mistake of being honest when she asked how much wt. I'd lost. When I proudly said, "over 100 lbs.", she reacted in shock by saying (loudly), "how in the world did you even move when you were that big? Or did you?" I was so embarrassed. Then about a week later, here she comes into the gym again. Gets on the treadmill next to me and after the obligatory greetings, asks how much I've lost now. Stupidly, I answered 105 lbs. She turns to the man on the treadmill next to her (it's a small town and they've all known each other all their lives) and says (again), "I don't know how she even moved at that size!" Again, humiliation. As if that was not enough, later on, she was trying to whisper to my mother, who went with me to work out, "why did she let herself go and get so big??" Of course, I could hear her from the other side of the gym. Mother didn't hear her the first time and asked her what she said. I wanted so badly to have the courage to say loudly, "Mother, she asked you why I was such a fat slob".
I know I'll run into her again. I hope, finally, to be better prepared for her next time. I want to have the assertiveness to say, "you know, my goal is to be healthy and I don't think I'm nearly as interested in my numbers as you are."
Initially, I thought "I'll never again tell anyone how much weight I've lost". Maybe, I'll only tell fat people LOL. I don't want to give ammunition to a smug, skinny person so she can feel self righteous. Maybe this happened for a reason. Maybe I need to learn to be more assertive and not be left feeling like a doormat.