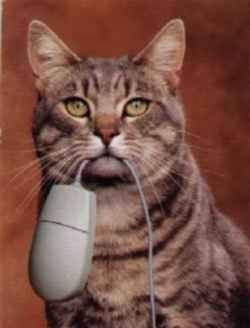 Blog Warning: The following blog contains graphic descriptions.
Blog Preface: My husband (James) and I work construction, moving from one project to the next—usually every 8-12 months. For ease with these frequent relocations, we've opted to live in a camper trailer. The trailer is large, in regards to comparing against your average camper; the trailer is small (especially the bathroom), in regards to comparing against your average house. We are accompanied by our 2 cats, Bobbie Sue and Ole—who sometimes make us feel as though we are guests in THEIR house. The spoiled felines have their own cat door, to be able to come and go, as they please.
Blog: Now, picture this...
6:00 a.m.--Alarm buzzes. I groggily awaken, while subconsciously pushing Bobbie Sue off my head and Ole off my feet. I eventually get up, without turning on the lights, groping my way to the bathroom--for some reason the bladder tends to fill up overnight. In the meantime, James gets up, dresses, and makes his way to the kitchen to start the coffee--he's speedy in the morning; I am lethargic...He turns on the light over the stove.
Okay, so here we are so far: James is up and dressed. I am sitting on the can, in an incoherent state of mind, rubbing my eyes. A soft glow of light from the stove is spilling over into the hallway. I have not had my mandatory pot of coffee. Oh yeah, and I have the bathroom door open--no need for privacy when it's just the 2 of us, right?...
So, there I am squatted on the toilet, taking care of my business, and from the bedroom comes this BIG mouse, moseying along, down the hallway, into the bathroom, between my bare feet, and heads behind the commode—remember, we live in a camper, so you can imagine how small our bathroom is...
Now, I'm not the wimpy, wussy, whiney sort of person, and in my "normal state of mind", I find mice acceptable--not necessarily in the house, but in an outdoor environment. (I actually had a couple of pet mice—Mickey and Minnie--in my younger days...until the farm cats ate them…) But now that I'm older and "wiser", I kind of loathe the idea of critters of such running amok in the house. A mouse in the house is just not right; I cannot, will not, find mice, nice! Mental note: my cats are lazy and overfed--must amend that situation!!
Back to the story...
So, as this blur of a mouse is making tracks through my unslippered, bare feet, I let out this deafening, ear-splitting, shrill, blood-curdling scream. I am not positive if I finished with the Charmin, before I found myself standing on the toilet, pajama bottoms around my ankles. A flash goes through my mind, where I feel as if I'm living an out of body experience, and I'm in some sort of cartoon or comedy sitcom--this can't be for real!! (Besides, those women are always standing on a kitchen chair or kitchen table—not balancing on a toilet rim!!)
Now, James is fiddling around in the kitchen, hears my scream, and hesitates whether to come to my rescue or to run outside and save himself--surely some stalker must have been hiding in the shower!! He collects up his strength and hollers, "What is it?!!" To which, I scream from the top of the john, "It's a mouse! There's a mouse in the house!! Quick, get the broom!!"
Well, without the aid of coffee, I'm now fully awake, and the cobwebs are cleared from the space between my ears, so I start to assess the situation: this mouse was moving none too quickly, so most likely one of the cats brought him in through the cat door, played with him until he was somewhat maimed, got bored, and let him go…(So there was a game of Cat & Mouse going on, while James and I slept soundly?!) This mouse was somewhat on the colossal side, my bathroom is somewhat small, to attack him with a broom may not be all that easy of a task, and it would most likely leave an unsightly mess, if we were met with "success." Taking a commando charge of the situation, I barked out, "James, skip the broom! Grab the BBQ tongs!"
So, in one swift motion (well maybe a few unswift motions, actually), James is in the bathroom with the tongs. I perform a springboard leap off the toilet, over James and with a Bruce Lee "Hee-Yah!," I land in the hallway—I think I had somehow gotten my bottoms pulled up at that point. I then proceeded to strategically block the bathroom door--leaving my "knight in shining armour" no outlet from the "attacker," because I'll be damned that I'll let that beady-eyed varmint (the mouse, not James) run free in my house!!
To sum things up, my hero snags the critter, drops it in the trash can, and lets him free outside. Although I find this somewhat unwise--as surely the cats will bring him back into the house as soon as we leave, I breathe a sigh of relief--which is the same thing I could have done, had I finished my business that I'd started on the toilet, in the first place...
Now that I've calmed down, many thoughts are going through my mind…The first question came from the inner brain--Since that incident really got my heart a pumping, could I count that towards cardio exercise?
More so, though, I'm thinking about why one of the cats would bring this mouse into the house. They are not hunters—Ole has no motivation and Bobbie Sue is skittish when the leaves rustle in the wind. I've had cats in the past, who would bring me presents such as mice and birds, but never had these 2 done such. So why now—what was different?
Hmmmm, different? Well, I've been watching my diet quite closely these past few weeks, cutting down on the serving sizes. Had I subconsciously put the cats on a diet, as well? Perhaps one of them resorted to hunting, as a means of survival? A quick glance to their food dish—oops--empty, other than a few kitty crunch berries scattered on the floor, gives credence to that theory. Hmmmm, different? Well, I've been exercising almost daily for the past few weeks, by cranking up the tunes and doing my rock-n-roll granny dancing. Ole has seemed perturbed at times, when I shook the house a tad bit, thus disturbing his catnap. Perhaps he brought the mouse in the house as a sign of rebelling against my new chosen way of life—I mean, I am upsetting his routine. Hmmmmm, different? Well, I've cut back what I've been eating, thus benefiting the cats, who now get the skin from my chicken and whatever leftover delicacy that I choose to leave on my plate. Bobbie Sue has seemed pleased with this arrangement. Perhaps she wanted to show me a little gratitude and brought the mouse in my house as a token of love and affection. Hmmmmm, different? Well I'm noticing small changes in my body--a little less fluff. Ole and Bobbie Sue have always enjoyed smooshing my soft spots. Perhaps they aren't liking the fact that my gut and boobs are changing and they brought the mouse in the house in an effort to throw me into a panic attack, which could lead to an emotional eating frenzy.
I suppose I'll never really know why that mouse was in my house. I've made a mental note to give Bobbie Sue and Ole a little more attention, just in case this was their way of crying out for help.