Whew--got a hula hoop!
Friday, October 26, 2007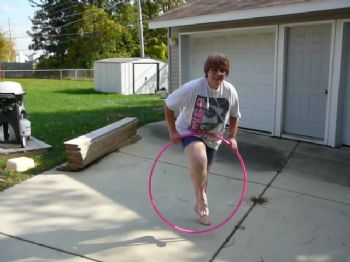 Ok--after searching for a hula hoop, I finally found some. I bought 2 different sizes & colors. I came home,put on an old Ringo Starr concert T-shirt, got my iPod, & went to the back yard to practise. I had to do it in the backyard--I don't want any neighbors to die of a heart attack from laughing!! Plus, I thought I could also hide from my husband--but nooooo---he saw me from the kitchen window. He just HAD to come outside to watch--oh my goodness--I wanted to stop, but I thought--what the hey, I gotta do some cardio, & he might as well take a pic of me doing it! I was trying to get that thing to stay up, but man--I am way out of practice! One good thing about it dropping to the ground so often--I sure got enough deep knee bends, & waist bends in for the day! A few times, I surprised myself by actually keeping the hoop up for more than a second! After awhile, I remembered that I used to jump it, like a jump rope....so I started doing that! Whew--what a workout!! One time I tripped, & my loving husband reminded me that if I got hurt, it wouldn't do my workout any good. Well--duh--I think I know that!! How old am I?!?! LOL!! Anyhow-- that's my workout story for the day. Somethin' old--somethin' new--nothin' borrowed, & Hey, I got a blue one too!