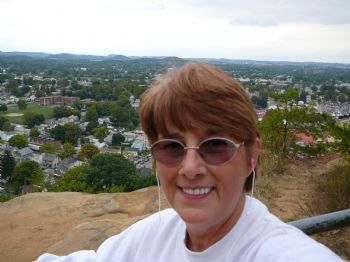 Ok...it will be a month tomorrow that I made my last blog. It's just not something that I like to do. Maybe with time, that will change. Lots of things have changed for me since joining Sparks!
I'm losing weight slowly, but at least it's a steady loss. I've learned that when you have hypo-thyroidism, weight loss can be a slow process. I'm fine with that. I've learned that people that lose slowly, tend to keep it off better, than if you lose it real fast! So--that's a positive!!
I've learned that you have to start excersizes, especially crunches, at a slower pace! I was in a challenge that got me all excited. I jumped right in, & did 120 crunches for 2 days in a row, then a day of rest, then 120 the next day. Now--that would have been ok, IF I had been doing some all along---but I WASN'T!!! Let me tell you--my abs were SCREAMING at me. They were telling me NO MORE!! It took my abs a week & a half to start feeling normal again. So now I know--go at things a little at a time!
I've learned that this is no longer a "diet" to me. It is now a true Lifestyle Change. It's become a habit to be aware of what, & how much I eat, & to check the nutritional values. Recently, I visited my mom in Ohio. We went to the county fair, & I had given myself that day to eat WHATEVER I wanted. Yeah, right!! I was somewhat careful of how many goodies I shoved in my mouth. Even though I had given myself permission to have a "free day of eating"--I could not, would not, eat with abandon like I used to.
My mom thought that was just hilarious! She even said to me, "June Ann
(whoops-both names-now I'm in trouble-lol), you gave yourself this day to eat what you want, & you're worried about it. What's gotten into you?"
Well mom---I'VE BEEN SPARKED!! That's what got into me--LOL! She's proud of me for what I've accomplished so far--but she had a good laugh over my cautiousness (is that a word?).
I've learned that I can do more things that I want, now that 25 lbs. are gone!
On that recent trip to visit my mom, I did something I've wanted to do for probably 30 years. My home town has a small "mountain" (or at least that's what the locals call it) of sorts. It's a huge rock left behind by the glaciers--eons ago! There's a path, & large rock "steps" leading to the top, & as a kid
& teen, I used to go up there all the time. The view is fantastic, as you can see the city below, & the landscape beyond. I decided that NOW was the time to go up to the top again! I'm proud to say--I MADE IT with no problem! I know that never would have happened before I lost weight. I could not have made it up the steep path, & over the rocks near the top..to get to the peak.
I've learned that losing weight can actually be a fun journey. I am getting so
much joy from surprising people, when they notice that I'm a little smaller than the last time they saw me! Especially my doctor! The last time I went to see her, I was so excited for her to weigh me. She had to look at my chart, & the scale, several times to be sure her eyes weren't playing tricks on her!! I got the biggest kick out of that--I loved it! Now, I'm of the attitude that--"I'll show them--I'll show them all what I can do!!" It definately has strengthened my "backbone"--given me more determination!
Sorry this blog was sooooo long--but--well--that's just the way it is! I'm a
talker--at least when I'm talking (or typing as the case may be)--I'm NOT EATING! LOL! Ya'll have a sparktastic day!