New Picture of me!
Thursday, October 18, 2007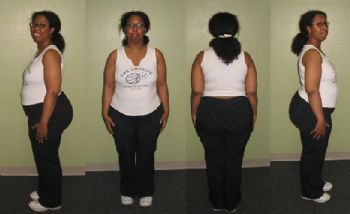 I'm adding a new picture to go with my blog!
I've lost 25lbs as you all know and I have finally gone through and sorted out the "big" clothes and pulled out the "small" clothes. Well AF has shown up and I had two pairs of pants that would button but that last little bit of zipper wasn't coming up. I'm hoping that when AF is gone they will zip all the way. I've added about 6+pairs of pants to my collection! This is actually more pairs of jeans and dress pants than I had before. I do believe I can add more and that I'm missing some. I tried on sizes 16 and have the 6+ pairs in 16's. I was a size 22 and have been wearing those and 20's but have only found one pair of 18's so I need to find the others so that I have something a little bit baggy. Most of the 16 fit fine and one pair I was able to even work out in!!
I'm so happy about it and so I'm putting up a picture of me after my work out, wearing the dress slacks.
I've also managed to get into a smaller top size but didn't add much to that collection but did add a skirt!