5 Miles! AMAZING!
Sunday, October 14, 2007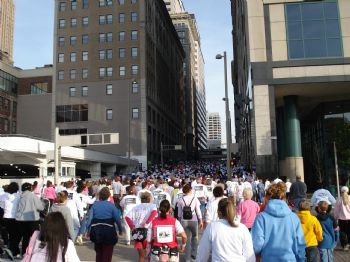 That was the MOST REWARDING thing I have EVER done! This was my first walk and I just want everyone to know that I walked with a purpose and was determined. I think I cried for the first 2 miles! It is soooo empowering to see SO MANY PEOPLE...they are men, women and children, some in groups, some without hair due to chemo, some with pictures of lost loved ones on the back of their "Fight for the Cure" shirts! It is touching to see so many people in this world (a world that normally seems so angry) all doing something so completely selfless! I can't wait for another walk!
If you go to my page, you will see my pics!