HELP
Thursday, October 11, 2007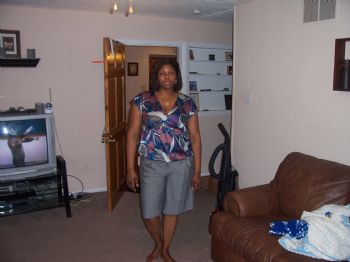 OK, I've been walking/exercising/lifting. No weight loss to report this week. My real problem is, the scale seems to be going up. I know musle weighs more than fat but is it musle or am I really gaining weight. My clothes are fitting a lot better and I can really tell the difference in my legs, but my mid section is the same (fat). Trying not to be discouraged but its getting hard. My last post was 2lbs lost now they are back and they brought a friend. UGH!
I should say, I have had a problem with sweets but I have stayed within my calorie range. Does that count?
Positives-I have been exercising and drinking at least 8 glasses of water a day. I manage to walk at least 2 miles at lunch. Its starting to get cold here so I will have to find something else to do. Wish me luck.
Member Comments About This Blog Post
PRAISEGODIMFIT


T:
If you are counting your calories and not overeating, just hang in there, it is muscle. Eventually, you will start losing again. Be patient. There is an article on spark about gaining weight after exercising. Here is an answer to someones question like yours from another sparker

Yes, it is possible to gain weight at first. Your fiance is correct - muscle is denser than fat, so in terms of the space it takes up, it certainly weighs more. Like the old trick question of "which is heaver, a pound of iron or a pound of feathers?" The answer is neither, they both weigh one pound. The iron, however, is denser, smaller, and takes up considerably less room.

What you may be experiencing is muscle replacing fat. As would happen with iron replacing feathers, the weight would stay the same, or possibly go up, but the mass or volume goes down.

If you haven't already, check your measurements (waist, chest, arms, neck, hips, thighs) with a tape measure. Check them again in about a week. If the measurements go down over the course of a week, then your program *is* working, it's just replacing fluffy, low-density feathers with hard, high-density iron. You get stronger and smaller, without necessarily losing an ounce.



3843 days ago

LOVELYLDYLUMPS
Hi i'm new to SP and ran across your page.
I honestly have tried to stop weighing myself. I think that a lot of times the scale can be thrown off by, bloating, bowels and yes gaining muscle. When you get those not so good weigh-ins have goal clothes ready to try on and gauge your progress that way. The scale doesn't always show results.
Good luck, stay encouraged and Keep on moving


3844 days ago

LILSHINE
Okay so let's put that behind us and see what the new week will bring. Good thing is that you didn't mention giving up! A+ for that! Are drinking your water? As the other poster said watch what you eat with salt. Take your measurements if you haven't already done so. Generally I measure once a month but if the scale discouarges me before that time come I always check the measuring tape and it usually makes me smile. On the positive your clothes are fitting better, your thighs are smaller but that stubborn belly puff will eventually go away. I find that walking is a powerful weapon for that. perhaps include more walking and cut back on the days you're strength training. I wish you the best you can and you will do this!


3846 days ago

JENN53888
I'm guessing it wasn't actual Fat you gained.. However, Sugar turns to fat, so watch yourself on the Sweets *It's my problem this whole lifetime lol*

Let's go over the easy questions you've probably already figured out..

Could it be water weight gain? Any Period Rearing it's ugly head soon? Could it be you ate alot of salt last night and now it's Swelled ya up like a Balloon? That's what too much salt does to me now. I'm sure you weighted yourself.. no clothing, at the same time you did the last time you weighed yourself right?

I know how hard it is to see the scale go up, Been there what feels like millions of times! I actually took a break over the summer because I was so bummed after a doctor appt. It's not fun at all! but don't let 3lbs Derail you! Remember, The next time you eat can change everything! tomorrow is a new day, and you can work to get that off! it won't always be going up. The word Diet in my brain tells me, "Oh no, You are going to be loosing out on all the good stuff soon, better eat it all whenever you get the chance" lol I have a really hard time With controling myself. I'm working on it slowly.

I'm not sure if Staying within your calorie range with sweets works. I would think not, but I'm no Expert. I would think say you have 1000 calories to work with.. and you ate 600calories of good food and 400 for a piece of chocolate cake and some icecream, I don't think that counts. lol See what I mean. That's just an Expample though, I have no idea how much in the sweets part you're eating. If it's a bit though, you might wanna consider cutting down on it a bit more for this next week and see if it helps.

Good luck most of all! don't get Discouraged! you can do it!


3846 days ago



Disclaimer: Weight loss results will vary from person to person. No individual result should be seen as a typical result of following the SparkPeople program.