Colin's back
Tuesday, October 02, 2007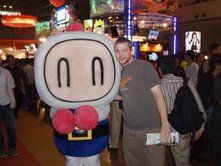 Hello my friends. Happy days for me and DH. Our Colin is back from Japan, having spent a year studying Japanese Language and Culture. The photo above was taken while he was at a games conference with Bomberman (the stuffed dude standing beside him).
So it has been great having him back home. He's back nearly three weeks now and the year away has done him a lot of good. He has really matured and seems very much at peace with himself. He was gobsmacked when he first looked into the fridge, all the "rabbit food" and diet this, diet that, low cal, low carb foods. He's now eating all the healthy option foods (still cramming in the biscuits though) and can't tell the difference between full fat and low fat foods.
So, your Polly really now has become "SmileyPolly".
Thanks my friends for being there for me when I felt down or just disheartened. Without you the journey would have been much harder to bear.
Lotsa Luv 'n Hugs