Gonna B Fit Weekly Challenge
Friday, September 14, 2007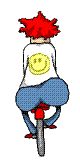 One of the challenges this week is to list 3 goals.
1. I am planning on reading "Shrink Yourself" from cover to cover. This book is excellent although it is tough reading the truth about emotional eating.
2. I plan to keep with my exercising. I see it does work. Having the Exercise TV channel really helps. I do one program and then look for another and before I know it, 45 min has gone by. I will stay with what works.
3. I have revised my eating slightly and will continue to examin my eating plan and possibly do the SP meal plan and see how that goes.