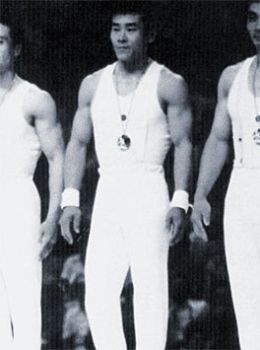 This is the story of Shun Fujimoto, who has bold determination.
After severely breaking his knee during the floor exercise, Japan's Shun Fujimoto ignored his injury as long as possible, knowing such news could shatter the confidence of his teammates.
The injured gymnast continued on to the pommel horse routine, miraculously scoring a 9.5 out of 10. He then faced the rings, which would be his final event of the day. Shun performed extraordinarily, ignoring the inevitable consequences of dismounting from eight feet off the ground. Upon completion of his routine, he hurled himself into a beautifully executed triple-somersault dismount.
When his feet hit the floor, the pain sliced through him like a knife, but he kept his balance. Gritting his teeth, he raised his arms in a perfect finish before collapsing in agony. He was awarded a 9.7, the highest score he had ever recorded on the rings.
After winning the closest gymnastics team competition in Olympic history, Shun joined his team at the podium to receive his gold medal, and he did it without assistance.
"My desire to win was greater than my moment of pain."
"The pain shot through me like a knife. It brought tears to my eyes. But now I have a gold medal and the pain is gone."
My pastor brought up this man in service this morning. He endured something painful and, to put it lightly, unpleasant, that lasted a short while for something that would last a lifetime.
I can apply this to my weight loss journey. I, too, can endure learning this new way of eating, of changing my habits, which is painful and unpleasant in the beginning, for something that will last me a lifetime, a longer lifetime at that.
Very inspiring, in many ways.