over my first plateau!
Friday, August 17, 2007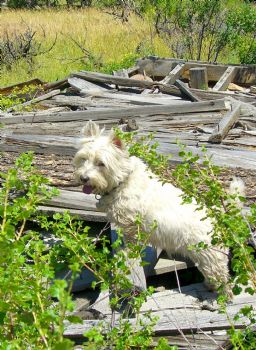 Oh yeah! I've slogged through three weeks of no weight loss (and some gaining) to finally hit a new low - 197. Jennie and I have been biking every sunday for these three weeks and have logged over 50 miles, and I've been under my weekly weight watcher points every week and STILL nothing was happening. That little voice in my head kept getting louder, " yeah, you were so proud of yourself, but you're just going to bounce back higher than before!"
I had to buy clothes for my new school year, and Jennie had to persuade me to try size 18 pants and 16 blouse. I decided to humor her and ta-dah! They fit! I haven't worn these sizes since shortly after Brion was born! But still the pounds hovered between 199.5 and 203. Heck and Darn.
Now, today, I weighed my 25 year low of 197. I'm sure I'm on my way down again, and what a relief that is. What a great way to start back to school.
Besides the weight loss, I'm seeing a little definition to my calves and heels, and can feel a definite seedling muscle in my arms. Add to that the pure enjoyment of biking at dusk and seeing deer look up as we go by or an owl take off and fly low across a corn field looking for dinner (hope he got a lot of points worth!) and my life is truly changing.
Okay, enough of this optimism. Back to my baby steps and determination - if I let myself be too happy about this I might get complacent and I'm not ready for that!