Monday, August 13
Monday, August 13, 2007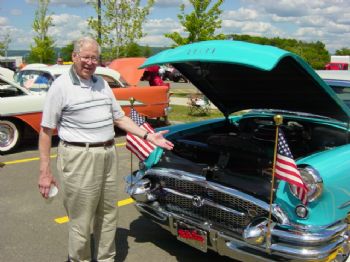 I just bought 2 new exercise DVD's from Prevention today. I'm going to try one tomorrow morning...I hope these new routines jump start me out of this very, very long plateau I've been on so I CAN reach that goal I have set so long ago.
I believe my body has really gotten used to everything I've been doing and says..UGH...not getting anything out of that any more!! LOL.
Anyway..I was getting a little bored with them...this will put a little "spark" in me!!! Sort of my reward for keeping up with this.
The picture here is of my father next to one of his favorite old models of cars taken at a car show that was in the area not too long ago.