White Knuckeling "The Range"
Tuesday, July 31, 2007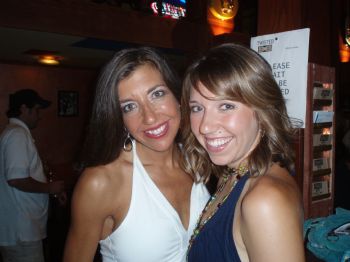 I am at maintenance, and I use a "maintenance range" rather than a single weight to maintain. The Range is 150-154. If I get to 154 or (gasp) over that weight, I know it is time to get serious before I have a lot of real work to do. I weigh myself daily. Having a range keeps me from going nuts but also gives me the early warning wakeup call so I don't suddenly have 10 lbs to shave off. This approach works really well for me.
So, Thursday night was the beginning of an ugly few days. My sister and I went out Latin dancing...the pic was taken when we were out for a couple of pre-dance cocktails. When we dance, we litterally dance vigorously for a total of about 2 hours...according to sparks, I burn almost 900 cals doing that. I also did my regular 4 mile run thursay am. So, depsite some extra calories on Thursday (planned bc of the extra calorie burn while dancing) I was down to 149 on Friday am. Woo Hoo! I knew this was temporary... dehydration was factoring in.
So, here is where the problem starts. Friday...happy hour with cocktails...no workout. Saturday...a party with a few extra food calories and cocktails - did manage to work out. Sunday...another party with extra food calories and cocktails, no workout. And the BIG downfall....birthday cake and lots of it! There were two different types of cake; so of course, I had to have both. And, I am a total frosting FANATIC...I insisted on taking the pieces with the most frosting available. I averaged around 2000 calories a day thurs-sunday! Four days of 2000 calories - what was I thinking??!!!
Anyhow, the scale monday morning said 154...wake up call. I was not surprised. So, back on track. I went back to my sure fire foods to keep me in my range...scrambled egg substitute with lots of veggies for breakfast and spaghetti squash with lowfat spaghetti sauce for lunch. Today will be similar.
By the end of the week I'll be solidly in my range...maybe at the low end. That's a good thing, because Saturday I have another party with cocktails and cake with FROSTING....Yikes.