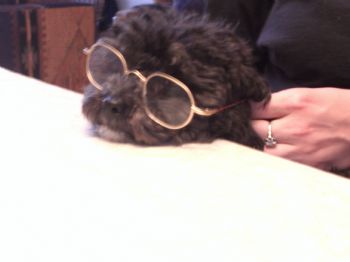 I do not write journals. I do not discuss weight loss with strangers or mere acquaintances except to joke about it, so this is a big step.
oof!
I was not overweight as a child, but weight started creeping on during my adolescent years. My first diet was weight watchers. I was 135 lbs., 17 years old, and lasted to 131 when I went fishing and chowed down on everything in the boat but the raw fish.
Fast forward to 1972. Married two years. Hubby was away at boot camp. I was up to 140 lbs. and was 20 years old. I worked at a preschool and at a fast food restaurant. I ate no breakfast, big FREE lunch, and very small dinner. By my 21st birthday I weighed 129. This was the smallest I have ever been. My husband came home and life was wonderful. We worked and planned and tried to have babies. We got a dog instead.
Finally my daughter was born in 1974. I did not gain until she was about three. Then the pounds started coming back on. I was 150 in1979 when my son was born. Again, I didn't gain with the pregnancy (nothing to blame but me) but by the time he was four I weighed 180. Tried the Adkins diet and lost about 16 lbs., but within a year I had gained 30 more.
By 1990 I had been on several diets, returned to school, quit being a supermarket checker, and become a fourth grade teacher. phew! All that was swell, but I weighed 220 pounds. I didn't diet again for 15 years.
During that 17 years my weight remained the same. Up and down 5 lbs. once a month or so, but right there. Then what I thought was pre-menopause (I guess it was, but - hello - I'm still pre-menopause) may have really been empty nest syndrome added another 15 pounds. My kids went to college and moved out. My folks got feeble and I became their primary caregiver. (Survived with the help and support from my husband and brothers!!) Put off our plans to join the kids in Colorado as long as my folks needed me.
Mom and Dad passed away within four months of each other, in 2004. I had actually lost weight during the last year of their lives, but promptly ate my way back to 237. I quit my teaching job, we sold our house, and moved to Colorado. I've been here two years, and am getting my life back on track.
I'm 56 years old and I started weight watchers on May 20, 2007. This is pretty much my last stand. If I don't really change my lifestyle here and now, I can't really foresee another diet. In 14 years I'll be 70 years old! YeGads!
My mother was overweight all her life, and suffered from heart disease, diabetes, and bad circulation. She spent the last two years of her life in a wheel chair. My dad was healthy with times of his life being overweight, and beat cancer three times (bladder, skin, and prostate) but was done in by an overly aggressive treatment for the prostate cancer. His parents were healthy and active. Mom's parents were obese and hard working. One grandfather died from a heart attack when he was my age. The other at the age of 74. Both grandmothers were in their early 90's when they died. Mom and Dad were both in their early eighties. So I guess I have a good chance at longevity. I've never smoked and am not apple shaped like my mom and her dad. Not that pear shaped is great, but doesn't seem to affect the heart as much. Do have the cancer thing to worry about from my dad's side, and losing weight, GETTING ACTIVE, and eating healthy might lessen that risk.
So what do I have to lose? Well, my butt for one thing.
Quote for the day:
(Ellen Degeneres) You have to stay in shape. My grandmother, she started walking five miles a day when she was 60. She's 97 today and we don't know where the hell she is.