Well, Ladies, swim suit season is almost here and I, for one, am ready.
Some things, once seen can never be unseen.
-------------
I spoke too soon about riding to Annapolis. I was informed today that the pain in Her leg/knee has reached a point that my presence is required this weekend. I expect it will be a Princess Bride weekend ... "Boy! Fetch me some water. Boy! Ice! Now! Boy! You better NOT touch that remote unless you want your fingers broken!"
As you wish.
-------------------
That's ok. Because Miguelito wanted to go fishing and he wanted a tackle box. I insisted if he just went into the cellar and looked beyond the end of his nose he would find it. In frustration that he couldn't do something so simple as just look, I went down and thirty minutes of looking later, I handed him $20 and told him to buy a some hooks and rubber worms and stuff.
If I can't find a tackle box, it is way past time to clean up again.
------------------
Wow! I have an new hero to add to my list:
from the Daily Mail:
"Runner, 104, sets a new European centenarian record after running 100m in a speedy 32.79 seconds and claims the secret to his fitness is 'doing everything I want'"
* Stanisław Kowalski has become oldest person in Europe to run 100m race
* He finished centenarian race in 32.79 seconds at Wroclaw Stadium, Poland
* The grandfather exclaimed he felt 'like a new man' when he crossed the line
* Mr Kowalski believes the key to living a longer life is by not overfeeding
Read all about it:
www.dailymail.co.uk/news
/article-2625256/Runner-10
4-sets-new-European-centen
arian-record-running-100m-
speedy-32-79-seconds-claim
s-secret-fitness-doing-I-want.html
----------------
I did a StumbleUpon
www.stumbleupon.com
and stumbled on this site
50 Things You Should Stop Buying & Start Making
www.naturallivingideas.c
om/50-things-to-stop-buying/
Some of them I have totally no interest in making because I have no use for it, but you might:
Homemade mascara: All natural and eye friendly
www.thankyourbody.com/al
l-natural-homemade-mascara/
But somethings I found possibly useful and even maybe a challenge. Ketchup (or catsup) is one thing I can already make.
But I never thought of butter. And I have a nice stand mixer. I could so do this.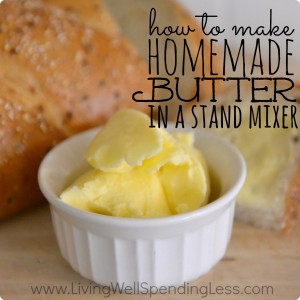 How to Make Homemade Butter
www.livingwellspendingle
ss.com/2013/02/18/how-to-m
ake-homemade-butter-in-a-s
tand-mixer/
Or maple syrup. This article claims that any maple tree more than 12 inches diameter is good for tapping for maple syrup. It's all about the timing. It must freeze overnight and thaw during the following day. I may totally try this!
www.commonsensehome.com/
make-maple-syrup/