Update on Baby Hannah!
Wednesday, October 29, 2008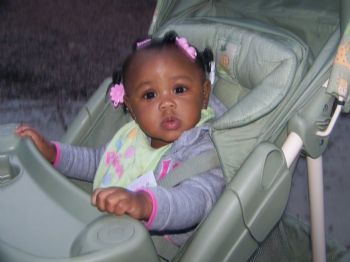 Good Afternoon Spark Family..On behalf of Hannah, myself and my family, I just want to take this time to say
so very much from the bottom of my heart for all the love, support and prayers sent our way for Baby Hannah.
. You just don't know how good this made me feel to see all of love from both near and far.
. Words can not express my feelings right now...so
all again. I Love you all!
. Moving on to my Sweet Pea, her appt w/the dermatologist went well..she had most of her skin tags removed by the laser surgery yesterday w/ the exception of the ones remaining on her ear. She has to wait 4 weeks until those can be removed, the doctor didn't want to put her through all that in one day; my Sweet Pea endured a lot in a day for a 9 mos old-5 shots and laser surgery...poor baby
. Hannah has showed us that she is a super star trooper. (Check out her new pic on my page w/her glasses. We can not Thank you all enough...
With God all THINGS ARE POSSIBLE...and he has certainly proved it for us!
~Iris