Using Google Maps for a Virtual Walk Tool 1
Wednesday, October 29, 2008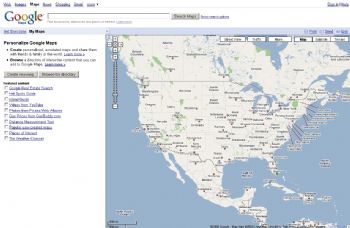 I was asked by a few people to explain how I used Google Maps to Create my own tour map. I'll give it a try.
First off you need to know how to get to Google maps. The URL is: http://maps.google.com/maps
You can copy and paste this or click on this link.
maps.google.com/maps
The screen should look something like the picture above.
Before you attempt to create a map you need to create an account. This is free. I'm not 100% sure but you maybe able to create a map without an account but you wouldn't be able to save anything, so it would be pointless. You should be able to create an account without much trouble, so I won't try to lead you through that.
I'll be creating a new account and signing in with you to create our first map tomorrow... I hope.
By the way there is a good video for getting started if you look tword the top left of the screen and click on the "Learn More" link. It looks something like this like this.
Personalize Google Maps
* Create personalized, annotated maps and share them with friends & family or the world. Learn more »