Needles and Pills
Tuesday, October 28, 2008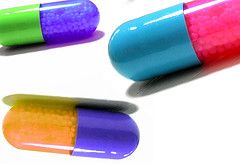 Needles and Pills
No, not what you are thinking…I'm talking about acupuncture and my magnesium!! Ha ha
I started doing acupuncture about a month ago, hoping it might make me feel better all around. I've been having lots of tension headaches, back aches, and I've been really worn down, without even doing anything to cause it! I also had some mysterious foot pain that came and went, and nothing showed up on the x-ray when I had the dr check it out.
So, I had heard good things about acupuncture and my insurance pays for it, so I went. Fell in love with it right away. I have no idea if it's actually helping, but I feel a lot better lately. My foot doesn't hurt at all, my headaches have lessened, and I'm not so worn out from day to day. Maybe it's just the mind set that I am trying to feel better so I am. Or maybe the needles are actually helping. No matter what, I'll keep going.
As for the pills, I started taking magnesium for the cramps I was getting in my calves. The cramping made it so hard to workout, because my calves would cramp up right away. My legs are feeling so much better! I was reading about magnesium and I found it out it also helps with stress. Who knew! And what a glorious bonus! I am feeling so much better lately, and I have to attribute it to the acupuncture and the magnesium. My mood is better, my energy level is SO much better, and I'm just feeling healthier all around. The biggest and best part is that I'm not feeling overwhelmed by trying to lose weight and get into shape anymore either. And that's the best thing, because I'm back to believing it's possible, and I had lost that belief for awhile.