Prayers Needed Please...for my Sweet Pea!
Tuesday, October 28, 2008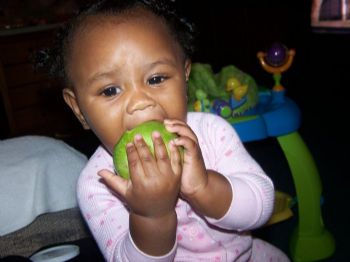 Good Morning all, I am writing this blog today because I need all of my Spark family to send there prayers out for my Sweet Pea Hannah. She has to have laser surgery to remove all of her skin tags (Skin tags are a type of growth or tumor, albeit a completely benign and harmless one. Tags are not cancerous (malignant) and not found to have potential to become cancerous if left untreated) as you can see Hannah is still a baby, which scares me even more at the thought of her having to be put under anesthesia at such a young age (9 mos). You see when Hannah when was first born, she was born with skin tags on her back, ear and some on her stomach and they are continuing to form/grow...the doctors told my aunt (her mother) that they were just moles..but a dermatologists diagnosed them as skin tags. Hannah has to go to the doctor today to see when she will actually have to have the surgery done..we were trying to wait until she turned a year in January...unfortunately, the dermatologist decided against waiting. I know that this is not life threatening, my stomach gets all tied up in knots at the thought of my Sweet Pea being put to sleep, so Please keep your prayer out for me, I am crying right now all while writing this blog. I know GOD will keep her under close watch and not let anything happen to her, she and my Breonna mean the world to me! Thank you all so much!