Niagara Falls, CA / Letchworth State Park, NY
Saturday, October 25, 2008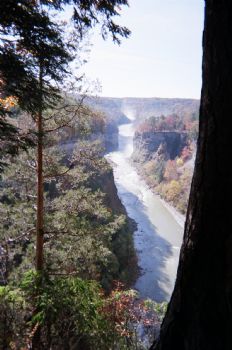 My wife and I had a mini-vacation (Tues through Thurs.) to Niagara Falls and took a stupendous detour on our way home through Letchworth State Park, our own New York State waterfall wonder!
Unfortunately the wind was knocked from my sails the first day as I had come down with some weird fever and probable infection of some sort which made some of my hair follicles very tender and left a sore, quarter-sized lump on the back of my neck near the base of the skull. I just zoned out, slept a lot and bounced back on Weds. No cardio for me on Tues. tho! I enjoyed using the hotel's Star-Trac Edge for an hour on Weds. & Thurs.
Saw the doc yesterday and he believes this lump was a lymph node, put me on antibiotic and today it appears to have gone away entirely...go figure!
Needless to say, my one day of fever and listlessness did little to detract from our good times out and about!