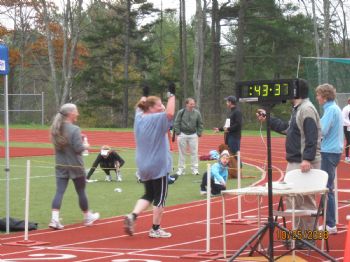 This morning, I got up early to take the dog out, and it was cold and kind of gray. I ran around the yard with him and thought about the 5K I was going to run in a couple of hours and I thought, "I'm paying money to do this on a Saturday??" Then, driving to the race with my sweetie, feeling all nervous and sick to my stomach, I thought, "I'm choosing to do this on my day off??" Then, looking at all the buff folks at the starting line, I thought, "Why do I even think I belong here?" And then the gun went off and I started running and I remembered -- I LOVE TO RUN!
I stuck to my walk/run (2minute/1 minute) plan, and quickly landed in the back of the pack. Then the canine racers (people with dogs), who started 5 minutes after the rest of us, started passing me. I kept with my program. I had my eye on a woman ahead of me who was walking, and every running interval I got a little closer. Finally, I reached her at a walk break, and we started talking. Mallory was 7 months pregnant and taking it easy, but also a Boston qualified marathoner, so I had good things to learn from her. I thought I was going a little fast on my run intervals with her, but it felt OK, so I kept going.
As we got close to the school (and the finish line), she went on without me when I did my last walk break. Then I decided to run the whole last part of the race (about a half mile or more) without a walk break. Fortunately, that was where there was a slight downhill and then one lap on the rubberized track (very nice surface!). A woman I'd met at the beginning of the race, Lorna, was waiting for me (she'd finished earlier), and she ran that lap with me, which was so nice. Then my sweetie and my sister, Susan (who'd come all the way from the Boston area early in the morning, just to see me race!), were cheering for me. There was also a couple there who I'd met through my work as an adoption counselor (I'd placed a baby with them), and their adopted son (I'd been present at his birth), and they were all cheering for me. So I sprinted to the end and finished smiling with the my arms in the air.
Posted finish time: 43:03!!!
I am still on cloud nine over that time! It doesn't matter that I was at the end of the pack (well, some walkers were behind me, as well as a basset hound and some other small, yippy dog). I did better than I ever expected myself to do and I AM SO PROUD!!! My out loud goal was to make it under 50 minutes (my first 5K had been nearly 59 minutes, but that was on a trail in difficult conditions, so I expected to beat that) - but my SECRET goal was to do it under 45 minutes. My per minute time was 13:53! I don't think I've ever run faster than 15 minute miles, and usually slower than that. So for me, this was a huge victory.
I am completely energized and charged up about the possibilities ahead of me in my life. If the girl who hated gym class can turn into a woman runner, what else can happen? What other things can I change? It is so cool to me how running is really this metaphor for life in general. I thought I started so that it could help with weight loss. I didn't know I was going to become transformed!
"You are one breath away from being anything you want to be. That one breath is a choice. Choose it. Make a different choice. Tell a different story. Do you want to be different? You can be!"
(Jillian Michaels)