NOT waiting for New Year's
Monday, October 20, 2008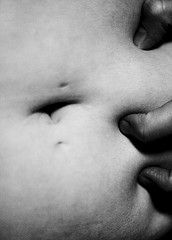 Ah New Year's…not really one of my favorite holidays. I feel like I'm forced to stay up to watch the clock change. I've also never been a big fan of New Year's Resolutions. I believe that if I want to make a change I should do it whenever I'm ready.
That being said, I haven't done so well on my resolution to lose weight. But I really feel I need to get out of this stagnant phase I'm in before the new year. I would like to see some progress before January. I know- it doesn't make sense, since I'm not into the hype. I guess I'd just like to see any progress, and if I can do it before the holiday season sets in, then maybe I'll be better prepared for the season, and the new year.
There are a lot of changes coming into my life in the next few months, so it'll be better if I get into a good routine now. I know this, yet I still fight it.
So, today is day 1….day 1 of me trying again, day 1 of me making a concentrated effort, day 1 of me not sabotaging myself, day 1 of me doing what's good and healthy for myself. Day 1 of me doing for me.