Louis's debacle
Monday, October 20, 2008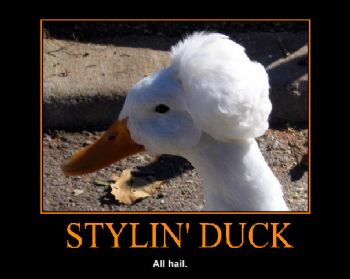 Well, Lucian is on his way home. He has been asked to leave my niece's because of his overwhelming influence on my nephew. See my gallery for pictures if you don't believe me!
He's decided to fly home ... his theory is he'll be ducking the "duck" traffic (they're all flying south, y'know), so i expect him home in about a week. Since the back half of George's round trip ticket can't be used til april, i'll behaving rotating sidekicks for a while.
Boy, the trouble a duck and a 2 year old can get into!
I'm not so sure how i feel about Louis's new "feather do" ... he says it takes a lot of "product", and since i'm allergic to almost all that kind off stuff, he may be back to his "smooth do" when he gets home.
Well, it's a sock day on the home front, so i'll be on and off line for the rest of the day, trying to get my a$$ in gear!!!
bon voyage, duckie
(one advantage of having George around, he is awfully good at lifting heavy things ... like the bed ... for vaccuum under!)
grins
DEC
p.s. If you enjoy he halloweenie songs for kids i've put on my SPARKpage, let me know. There are more where that came from!