JDRF walk
Sunday, October 19, 2008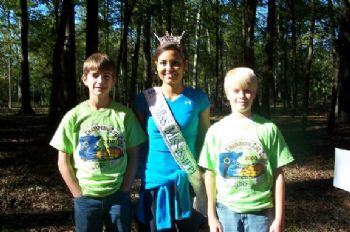 Yesterday was the Juvenile Diabetes walk. We walked a total of 2 miles. It was staked off for 3 miles, but we could not do the last mile. My cousin that is 6 months pregnant was with us and her belly started hurting so we turned around. Did not want to risk anything,
Anyway my ankles are hurting me a little today.
Miss MIssissippi was there. She has a family member with Juvenile Diabetes so this is part of her platform. Nothing to do but my son and his best friend have a picture made with her.
My son raised a litle over $1200, so I was pround of that.