Almost...I can practically TASTE it!!!
Friday, October 17, 2008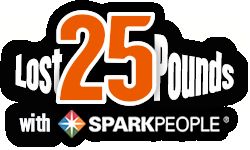 I'm only 0.8 lbs away from the 25 lb weight loss mark!! I'm sooooo close!! Grraaarrrggghh!!!
Ah, well. There's no helping it. I can only officially weigh myself on Wednesdays so I'd better keep this up so that I can lose a pound!
I think I'll make something yummy with spinach tomorrow....
Yeah, lots and lots of spinach....
*drifts off to lala land, which is mysteriously abound with spinach*