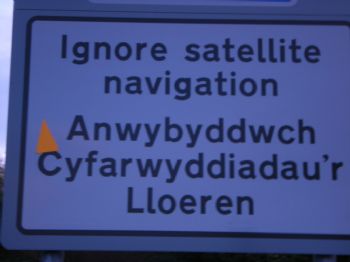 As the satnav photo says...Ignore Sat Nav. The other part is in Welsh and I am welsh illiterate so can only guess its the welsh version of the instruction. LOL.
This could easily be the story of my journey in to weightloss.
I read all the time, about how fruits should be one of the cornerstones of a healthy diet.
well no problem with that, unless that person is me.
thing is....I love fruits....I eat loads of the stuff.
Only problem is....some of them make me so ravenously hungry, its hard to stick to my weight loss plan should I eat any of such ones.
I can do plums and nectarines and satsumas and oranges.
how about melons and bananas and apples......those are a no no.
This would not be so worrisome, were it not for the fact that HUNGER is the hill, on which my battle with reducing my weight is consistently lost.
I have an emotional reaction to hunger that is quite irrational.
it traumatises me. In fact I have been known to have a Post Traumatic stress reaction to a hunger episode.
Even after I have stuffed my face, I may find I am still shaking. Hence my abhorrence for anything that will make me hungry.
So when I see fruits listed as a great great way to eat healthy....I have a wry smile and I think 'if only'.
Now vegetables....MMmmmm those are my best friends.