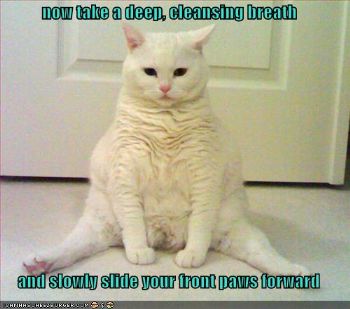 It seems several people I know on SP are struggling right now. I was having problems this past month or so, but I seem to be starting to come back out of it this past week. I ran across this quote tonight - it reminds me of how I felt when I reached out of my misery and despair about my weight and joined SP.
M. Scott Peck: "The truth is that our finest moments are most likely to occur when we are feeling deeply uncomfortable, unhappy, or unfulfilled. For it is only in such moments, propelled by our discomfort, that we are likely to step out of our ruts and start searching for different ways or truer answers."
We probably don't see those moments as particularly fine, at the time. But in hindsight, I'm sure many of us can see some times when we took a step that was a turning point for our lives. I guess where I'm going with this is a two-fold message. First, think back on some of those moments when you turned a corner, tried something new, or made a change in your life. And second, if you're struggling right now, remember that this might just turn out in hindsight to be a pivotal time in your life. Whatever you are going through, allow yourself to experience it and learn from it... but keep on moving forward, too.
---------------------
This morning I read an article about mini-rewards and how to use them along the journey. One suggestion from the article was to make a grab bag of little prizes. When you reach a significant goal, reach in and get your reward!
A reader who left a comment took it one step further, and I just LOVE her idea! I'm going to ask some of my friends to do something similar for me. She said, "I've used the surprise bag...but gave $5 to several friends & asked them to buy something that will keep me on my journey. They wrapped them & they are in a box at work (so I can't peek). When I reached my first goal of 30 lbs, we all gathered in the front office and I got to reach in and pull out a surprise gift! It was a wonderful tiny book titled "Believe in Yourself." Can't wait to hit 40...6 more lbs to eliminate!"
Isn't that awesome?! I'm going to let myself open one every five pounds. What kind of mini-reward can you work out for yourself?