THAT'S WHAT FRIENDS ARE FOR
Wednesday, October 15, 2008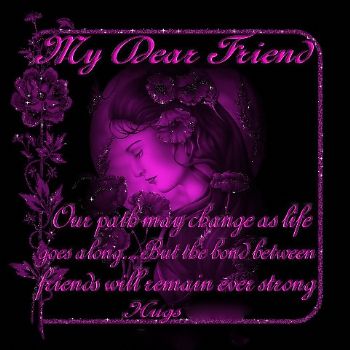 I SUPPOSE BY THE TITLE YOU CAN FIGURE OUT WHAT THIS BLOG IS ABOUT.
SINCE STARTING SPARK, I HAVE COME TO KNOW AN AMAZING ARRAY OF PEOPLE. ALL HAVE THEIR OWN PERSONNALITIES AND QUIRKS. YOU GET TO KNOW THEM BY THE LITTLE THINGS THAT THEY LIKE OR DON'T LIKE AND HOW THEIR DAY SEEMS TO MOVE ALONG.
WHEN ONE OF US IS HURTING, IS THE TIME THAT EVERYONE SHINES THE BRIGHTEST. IT CAME ABOUT THAT A MEMBER OF A TEAM WAS HAVING A BAD TIME. SO MANY RALLIED AROUND HER AND WANTED TO MAKE IT BETTER. WE ALL KNOW THAT IT ISN'T ALWAYS POSSIBLE. BUT THE EFFORT TO DO IT WAS THERE. THE WANT TO DO IT WAS THERE. WHEN ONE HURTS WE ALL HURT. WHEN WE NEED A GOOD SWIFT ONE, THEY ARE THERE FOR THAT ALSO. OUR FEARLESS LEADERS PROVED THAT.
THEY SHOWED US WHY THE TEAM WAS FORMED IN THE FIRST PLACE. IT IS MORE MANAGEABLE , EASIER TO HELP SOMEONE AND REALIZE THEY NEED HELP. WHAT THEY TOLD THIS FRIEND ACTUALLY HELPED ME ALSO. FUNNY HOW MANY PEOPLE GET HELP EVEN THO THEY AREN'T THE INTENDED RECIPIENT.
I FOR ONE AM SO PROUD OF HOW THESE KINDS OF THINGS ARE HANDLED AND OF THE RESPONSE THAT IS GIVEN BY ALL. I KNOW THAT NO MATTER WHAT MY LIFE MAY BRING, SOMEONE IS HERE LISTENING AND WILL ANSWER MY CRY FOR HELP AND ADVICE. OR A SWIFT ONE ,WHICHEVER IS NEEDED.
TO ALL MY FRIENDS WHO HAVE BRIGHTENED MY DAYS AND MADE THIS GIRLS LIFE MORE FUN TO LIVE JUST BY BEING YOU.
THANKS