50 down and 25 to go....
Monday, October 13, 2008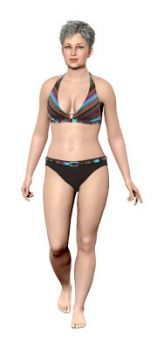 I haven't felt much like blogging the last 2 weeks. I struggled with 160 for an entire week but I finally made it yesterday and today I broke it with 159.6 and that was exciting.
I went through my closet and denim dresses that had been too tight are now too loose - I never got to wear them, lol. This is happening with loads of pants that I held for years in the hopes of fitting them again someday. Well, now they are too loose too and I am going to donate them.
Shopping is fun again as now I can even find things on the clearance rack that either fit me or will fit me soon! Really a great feeling that you will all experience very soon!
Oh yeah! I let my skinny sister try on some sale Capri's from Wal-marts and we now wear the same size! WooHoo!! She is smaller through the hips yet but I am in the pants and can sit down and everything! Now that is what I call exhilarating news!!
The image is my virtual model at 138! I'm on my way!!
Love,
Linda
** Sheesh, I forgot! I am now lighter than I have been in 20 years!! I want to celebrate but don't want to go over my range, lol.