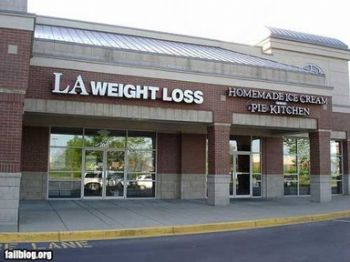 What's wrong with this picture? We are assaulted with contradictions and temptations like this every moment of our lives. Is it any wonder that we are increasing in weight and decreasing in health and moral strength/will power?
Anyway, that's from my "For what it's worth" department. I ran across some quotes today that I thought I'd pass on to those of us struggling with growth in whatever form. From an e-mail I received from a friend, entitled: A Woman Should Have:
...one friend who always makes her laugh...and one who lets her cry. If they both come in the same individual, that is a real lifetime treasure.
...a feeling of control over her destiny. God is in ultimate control, but knowing Him gives us true confidence in our direction, because we can see Him when we can't see the direction.
...knowledge of how to love without losing herself.
...knowledge of when to try harder, and when to walk away.
...a youth she's able and content to leave behind.
...knowledge that though her childhood may not have been perfect, it's over.
...knowledge of what she should and shouldn't do for love...or anything else, for that matter.
...knowledge of how to live alone without being lonely.
...knowledge of who she can trust, who she can't, and why she needn't take it personally.
...knowledge of what she can and can't accomplish in a day, a month, and a year.
That last one brings me to a question I was asked by a Sparkfriend recently...why I don't blog more frequently? I'd love to, but with the CFIDS, I have learned to pace myself carefully and pay attention only to what I absolutely have to do...most of the time, anyway. My "normal" fatigue level doesn't allow me to do all that I'd like. But having each of you to interact with is a great gift to me. I don't take it lightly! You each bring encouragement and inspiration into my life as I read your blogs and comments around the site.
So for all of us imperfect people, here's my closing thought...also lifted from an e-mail. (I'm completely w/out originality today...)
"Blessed are the cracked, for they let in the light!" Go shine some light on your world through your best efforts...no matter how imperfect!