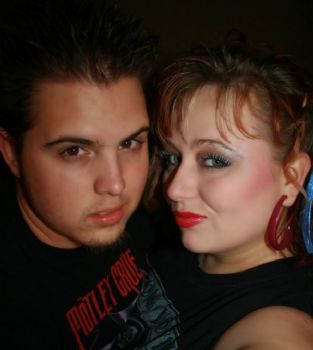 I HAVE TO SAY, IF IT WASNT FOR NICK, I WOULDT BE AS STRONG AS I AM RIGHT NOW. TONIGHT WAS AN EXAMPLE TOTALLY!
HE ENCOURAGED ME TO GO RUNNING. SO WE WENT FOR THE 3RD TIME THIS WEEK. LAST NIGHT WASNT TOO BAD. TONIGHT WAS SO DIFF!
WE STARTED GOING AND MY KNEES, RIGHT ANKLE BONE, AND HEEL WERE KILLING ME. I GUESS WITH 230 LBS ON THEM IT MAKES SENCE.
WELL HE KEPT CHEERING ME ON, STAYING BY MY SIDE. AND EVEN WHEN I HAD TO WALK HE JOGGED AND HAD ME SPEED WALK TO KEEP UP WITH HIM EVEN IF I WAS ABOUT TO CRY.
WE GOT TO THE CORNER OF OUR STREET AND HE SAID, " COME ON BABE, SEE THAT FOR SALE SIGN BY OUR HOUSE. ITS SO CLOSE. YOU CAN DO IT"
SO WE WENT. AND I HAD TO STOP HALF WAY FROM PAIN IN MY KNEE. HE PUSHED ME HARD! HE SAID WE CAN DO THIS! AND I DID IT EVEN ALMOST TEARING DOWN MY FACE!
HE KNOW JUST WHAT TO SAY TO ME TO GET ME TO GO! " CRYSTAL, GINA (WOMENS MMA FIGHTER FOR ELITE XC *MY IDOL*) WOULDNT GIVE UP. THINK, SHE IS YOUNG AND YOU WILL HAVE TO FIGHT HER".
SO THEN I CLENCHED MY FIST AND THOUGHT ABOUT HER COMMING UP TO ME IN THE RING AND I FOUGHT HER AND MADE IT TO MY HOUSE. I KEPY SAYING IM NOT GONNA GIVE UP!
THANK YOU NICK. THERE IS A REASON GOD SENT YOU TO ME AND KEEPS YOU BY MY SIDE EVEN IF I DONT DESERVE YOU. I LOVE YOU MY LOVER, FRIEND, AND SOUL MATE!