Call in and Listen: Live Interview with Coach Nicole this Friday!
Tuesday, October 07, 2008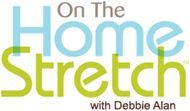 This
Friday, October 10
, SparkPeople's very own
Coach Nicole
will be doing a live radio/podcast interview with Debbie Alan. You can listen live online at
www.OnTheHomeStretch.com
, but we're also encouraging our members to call in with questions for Nicole, who is planning to talk about overcoming plateaus, getting fit on the cheap, and deciding whether you need a personal trainer. The number to call in LIVE is
877-474-3302
. Nicole will be on from
11:30 AM to 11:57 AM (Eastern Time)
; so be sure to listen to the interview and call in early with your questions!
UPDATE: Now that the interview is over, you can listen to the show here:
www.sparkpeople.com/mypage_public_journal_individual.asp?blog_id=1515929