What a week
Monday, October 06, 2008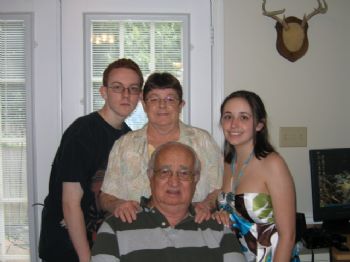 Well my parents have been here for 10 days. Lets say the theme of the visit was comfort foods. Every day was things I have been moderating very closely or complete cut out..
We have eaten at the French crepe restaurant. Mom has never been there in all the years they used to live here. She didn't even know it existed.
We have been to the local diner-hometown, huge portion, comfort food for less than $7 a plate. They could eat at the diner every day at least 1 meal because you can take home over 1/2 of what you are served. They love it. At least I can get Light Fare or what they call WW meals and still take home over half of it.
Then we tackled the scenic drive for 2 days. Grilled pork chops and rib eye sandwiches, haystacks (deep fried sliver cut onion rings), home cut and fried potatoes.
Good thing the drive has lots and lots of walking. Not very fast paced with a one lung 72 yr old and a 65 yr old severe COPD patient. But they loved it and we had fun.
They worried about all the great weight loss I had accomplished and how they were messing with my routine and new habits. I told them it will come off again, we were going to do what they wanted and have fun.
Well by 5 days into the visit I was up 3.5 lbs. It's OK I will get it off again. By the time we walked Saturday and Sunday at a snails pace the exercise was not gonna help.
Well they have left this morning (I miss them already) and I am down 3.2 from when they arrived. They have had a great trip. I have loved seeing them since it is barely once a yr anymore. God knows our times together are getting shorter. See God watches out. Everything has come full circle. I made their time happy and I lost weight anyway!!!!!!!!!!!!!