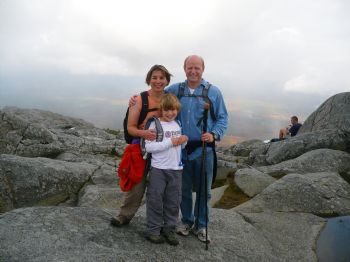 I didn't realize it until I started planning this hike, but Mt. Monadnock is the 2nd most hiked mountain in the WORLD. It is second only to Mt. Fuji, in Japan. And here it is, just an hour away from my house!
My husband Eric, son Coby (8) and I started our hike about 10:00am. It was 60 degrees at the base, which often means 40's at the summit. We had packed hats, gloves, and fleece jackets. Our family hiking rule is everyone carries their own water and we all had Camelbaks, which hold about 2 liters of water each. We had snacks, our lunch, a small medical kit. As Eric is recovering from a sprained ankle, I carried the main pack, which weighed 15 pounds. We felt well-prepared for what we figured would be a 4-5 hour excursion.
Our hike to the summit was fairly uneventful. A good portion of the trail is known as the 'Stairmaster from H***". It lived up to its name! Our fleece jackets were quickly tucked back into our pack and soon we were dripping with sweat. We paused often to catch our breath, admire the leaves, or watch a chipmunk with fat cheeks scurry into its hole. Coby scrambled up the rocks like a mountain goat and enjoyed jumping the small creeks and mud pits we encountered.
The summit portion of the hike is one long rock scramble and we were often on all fours making our way over some pretty steep sections with only narrow cracks for hand holds. When we got to the top, it was windy and misty, but the cool air felt good after such a hike. It was 12:15, so we had made good time and it was time for lunch!
Coby picked out a nice rock and I plopped his hat on him as we were cooling down fast. Coby just wanted to eat his sandwich and declined his fleece jacket. I thought he was probably ok as he had on his winter hat and a long sleeve t-shirt. He had drunk all his water on the way up, but both Eric and I had plenty, so we weren't worried.
All of a sudden, we learned how quickly things can go wrong and get dangerous on a mountain-top.
Coby started screaming and clutching his head. He curled up in a ball and shrieked at the top of his lungs. We didn't know what to do or what was wrong. We were worried he had gotten too cold, so we got his fleece jacket on him, but he kept screaming. We got out of him he had a severe headache, but we had no idea what had caused it or how to help him. Finally, he vomited his sandwich and started to drift into a semi-sleep.
Well, we had quite a problem. Here we were at the summit. Eric was wearing an ankle brace to protect his ankle. I am extremely protective of my back after having had surgery 11 months ago. It was starting to rain and we had 500 ft of slick rocks to descend before we could get into the tree cover. Now we also had an additional 65 pounds of sick child needing carrying, and perhaps medical attention.
I called the ranger station and explained the situation. The ranger thought our son had cooled down too fast and perhaps had drunk too much water. The one thing we had forgotten: salty snacks. We had plenty of fruit and chocolate, but nothing to replenish electrolytes.
The ranger thought we should try to make it down. A medical rescue could take several hours and winds were picking up and it was raining. We needed to get off the summit in any case and that was going to be the worst part our hike down.
So Eric piggybacked Coby and began the descent down. In the steepest areas, we had to pass Coby back and forth. After 2 hours, we hadn't even reached the half-way mark, but it had stopped raining. The ranger checked in with us periodically, which was a comfort.
Once we got into the trees, we were able to get Coby to walk for some short distances. Gradually, he began to do more for himself. He vomitted a few more times, but he also started developing more of an inner strength. About half way down, he started walking slowly on his own, with one of us holding his hand and lifting him over the steepest areas.
We were a team.
At 5:00, the sun was beginning to set and we emerged off the trail. Coby was slowly walking and the ranger met us. He said it could have been nightfall before we were rescued, so we really had no choice.
I was so scared I was going to have a bigger emergency on my hands as we were climbing down those rocks. One misstep could have caused severe injury to both Eric and Coby.
Coby has agreed he needs to climb Mt. Monadnock again. We agreed this hike was successful in its own way, but certainly not in the way we expected!
Deb