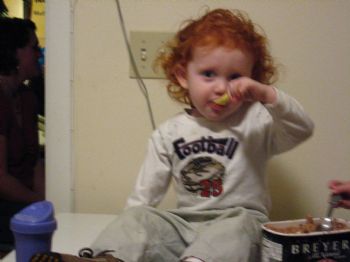 22 weeks, and i'm already having symptoms that are common for me in my 3rd trimester. good lord!
I stepped on the scale today and wanted to cry! i saw the dreaded 200lb mark!! I'm swelling like crazy, and my asthma is just having fun with me..let me tell ya!
I still don't have insurance yet, so i can't see a General Physician. It also means i can't get my inhaler prescription filled yet either..not that i know where it's disappeared to.. oi!
As much as i despise the cold..i can't wait for it to get here..it's the only thing that seems to ease my breathing issues.
I'm also to the point of needing shoes and undergarments..as my current ones are not fitting properly. i'm thinking on just getting myself a pair of crocs or similar that way i don't have to have help putting them on! lol!
yeah..i'm to the point now where i'm needing help with simple every day tasks. Socks & Shoes, and even shaving my legs..which DH doesn't mind doing and actually likes to do..wierd..but hey..i don't end up looking like a yeti because i can't shave! ROFL!
I've got 2 fears right now.. one is not making it to the hospital..the second..with my asthma acting up..i'm afraid i'll actually have a strong enough attack and no one will be around to help me.
In other news..i got wind of a graphic design job, that could potentially be a work at home job. the woman that might be looking for help does alot of stationary & business cards for local businesses. i've NOW got a key program for graphic design work..i just don't have a degree in that field. but as i told dh, i'm a quick learner and i love working with art :) so we'll see.
Digital Scrapkits are doing alright. i'm brainstorming ideas for my next few kits, so that i can get more traffic to my site and get my name out that way..as we REALLY need that extra income.
have a great weekend.
The picture is of my son taken last april.. Memei was spoiling him by letting him eat rocky road ice cream straight from the carton.. hey what are grandma's for right?