Aqua Spinning
Thursday, September 25, 2008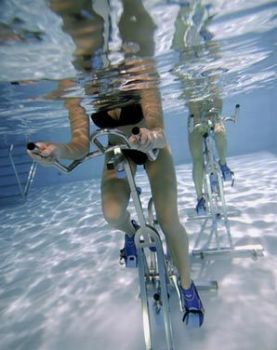 The Jack LaLanne Show began airing in the 1950's. The fitness guru developed fitness programs including aerobics and water aerobics. In the 1980's, Johnathan Goldberg introduced the concept of stationary cycling in a class. Thus spinning was born. It was inevitable that the two popular exercise formats would be combined to create a new form of exercise.
While watching the news today, I learned about aqua spinning, which originated in Europe. It is a high-intensity workout in the water. The use of water supports the body and reduces the risk of sports injuries. It is a great form of exercise for people with joint problems and those who want an intense workout.
Coming to a gym near you?
video.wnbc.com/player/?i
d=696724
www.youtube.com/watch?v=
z4mupeOZPSM
www.youtube.com/watch?v=
o_1MvnyiTDc