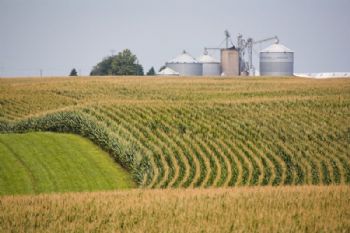 I AM STARTING THIS BLOG OFF AS A TRIBUTE TO MY FRIEND JANE. SHE IS HAVING YET ANOTHER SURGERY TOMORROW AND I WISH HER LUCK. I WILL BE PRAYING FOR YOU. I PICKED THE PICTURE FOR MY BLOG AS A TRIBUTE TO YOU AND ALL THE FARMERS IN IOWA , WHO HELP KEEP US FED.
A WHILE BACK , A COUPLE OF FRIENDS ON ANOTHER TEAM ASKED WHAT I THOUGHT ABOUT THEM STARTING ANOTHER TEAM. KIND OF A PRIVATE ONE THAT HAD ALL THE CLOSE FRIENDS WHOM WE TALKED TO EACH DAY. THAT DOESN'T MEAN THAT WE WANTED TO EXCLUDE OTHERS, JUST THAT WE SPENT SO MUCH TIME TALKING TO ONE ANOTHER THAT WE WERE OUR SUPPORT SYSTEM.
AT FIRST I THOUGHT IT WOULD BE GREAT. THEN I THOUGHT , WHAT DIFFERENCE WOULD IT MAKE. WE ALL TALK TO EACH OTHER EVERYDAY ANYWAY. I GUESS BECAUSE I DIDN'T DO ANYTHING ON THAT TEAM BUT TALK ON THE DAILY THREAD ,THAT I DIDN'T REALIZE WHAT I WAS MISSING.
SINCE STARTING THIS NEW TEAM, IT HAS CHANGED THE DYNAMICS OF WHAT I THINK OF AS A TEAM. THERE IS SO MUCH INFO OUT THERE THAT I WAS MISSING AND OTHER WAYS TO THINK OF THINGS. WE HAVE THREADS FOR THIS AND THAT. ALL OF WHICH ARE THERE FOR GIVING AND GETTING INFO.
I KNOW THAT A LOT OF PEOPLE WERE GETTING LOST ON THE DAILY CHAT. THEY COULDN'T MAKE THEIR VOICES HEARD. NOW THERE IS A PLACE FOR EVERYONE. SOMEWHERE YOU WILL BE HEARD. SOMEONE IS THERE TO ANSWER A QUESTION OR HELP WITH A PROBLEM. EVEN IF ALLS YOU WANT TO DO IS VENT , YOU CAN.
THERE IS ALSO MOTIVATION FOR EXERCISE. WE ALL TRY TO KEEP EACH OTHER GOING REGARDLESS OF HOW FRUSTRATING IT CAN ALL BE. WE KNOW THAT YOU JUST HAVE TO KEEP AT IT.
BUT ALL OF THIS WOULD NOT HAVE BEEN POSSIBLE WITHOUT THE TWO WHO MADE IT COME TRUE. LINDIE AND CHERYL HAVE PUT THEIR HEARTS INTO THIS TEAM. TO GET IT ALL THRU ALL THE CHANNELS AND GET IT UP AND RUNNING. WE ALL THANK YOU FOR THE HARD WORK. NOW IT IS UP TO US TO KEEP IT THERE AND TO WORK HARD TO MAKE THIS A THRIVING TEAM AND NOT ONE THAT FIZZLES. IT TAKES ALL OF US TO MAKE SURE THAT ALL OUR DREAMS CAN COME TRUE, BY HELPING EACH OTHER AND SUPPORTING EACH OTHER , THRU ALL THE GOOD AND BAD.
'ONE POUND AT A TIME' IS THE VEHICLE WE ALL NEEDED. NOW LETS LIVE UP TO THE NAME. LETS GO TEAM!!!