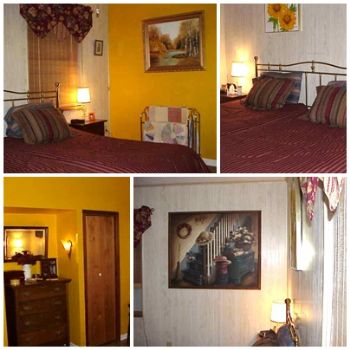 Hi Friends,
Just a short note to say I have the photos of our bedroom makeover as my b-day gift in my gallery now. DH painted the 2 walls gold for us. When we first moved into the house 8 years ago, he made the bi-fold doors out of cypress wood for the 2 closets in our room. We never did find out why they never had doors on them.
The chest of drawers is solid oak, circa late 1850 something we are told. The hip chair which you can see in the gallery picture is extinct American walnut. We found both pieces at an auction we've been frequenting for 8 years now.
The quilts on my quilt rack came from my husband's family and some date back over 100 years. I am very grateful to have them.
The picture on the paneled wall was a gift from my DH several years ago. I found it at the auction as well and fell in love with it. He said he bought it because it looked like what I like. He said, "It's you!"
We have 5 stained glass and one etched glass window we got from the same auction through the years. We also have a Morris chair, which has large oak arms and carved wood and legs that look like a lion's paws. The back and seat is leather, and it is an early recliner. It has a bar on the back and three positions that you can slide the bar into to raise or lower the back of the chair as a recliner. I have a small round marble top table as well. We also have a trunk that my FIL used when he went to college and it was sent on a train to his college. The trunk is over 100 years old as well. I have several cut crystal bowls from the family too. I love the beauty of antiques. It was fun looking for a few things to furnish our home with years ago.
Please don't think I am bragging...I just wanted to share some of our collection with you.
The auction I mentioned is the one that I still go to every Wednesday and play the organ for them. we are the only auction around with live music during some of the preview time. Then right before the auction itself starts, I play the Star Spangled Banner. We have a place with the American flag on the wall and all the armed forces flags surrounding it. The crowd is very Patriotic. It's good to see that especially today.
If anyone has anything old, don't be afraid to use and enjoy whatever you have. Please don't "save it for company". Be you own company and treat yourself as you would your company. Life is too short to not use the precious items we have.
Closing thought: May God send His love like sunshine in His warm and gentle way, to fill each corner of your heart each moment of today.
Love, Elayne