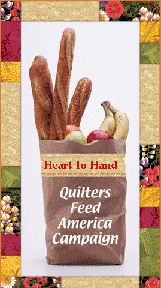 The president of Kona Bay Fabrics announced today: "Quilters Feed America is our campaign to rally to the quilting community-truly the most giving and caring people around. Kona Bay's goal is to raise a minimum of $10,000 without delay for "Feeding America" (aka Second Harvest), the national organization affiliated with hundreds of food banks across the country that do such great work and help so many.
Food banks all across the nation are putting out the "call to arms" to replenish their dangerously low supplies and Kona Bay wants to do its part to help. In addition to uncertain economic times throughout the United States, families are also struggling as storms again wreak havoc on their lives. It's crucial we help when we can-especially with providing food."
The program that Kona Bay started is only for quilt shop owners who are buying bolts of fabric directly from Kona Bay. However, I would like to take this a step further and turn it over to you our customers. I just went through my pantry to reorganize it a bit and found 3 giant bags of food to pass on to the local food bank. Not giving old or outdated things, I found cans of food where I bought too much at a sale or for a cooking project that I no longer even remember what the recipe was for. I am sure that you too can look through your pantry and find similar items.
Here is my challenge. Between now and November 1st, I would like to see if you, our friends and customers, can donate 10,000 cans of food across the world.
How to do it:
1. Go through your pantry and pull out products you can share with others.
2. Find a local food bank to donate food to. If you do not know one in your area click here, and enter your zip code to find the closest one.
3. Count your donation items.
4. Go to the food bank and donate your products.
5. Send me an email: Wendy@hearttohandonline.com and let me know how many food products you donated, where in the country or the world you live, and your email address. I will update the donation thermometer on the website every week, sooner, if the response is outstanding.
6. If you live near the shop, you can drop your food donations off at shop Food buckets and we will get them to the Oregon Food Bank.
7. When you come, be sure to give us your name, number of items donated and a phone number or email address.
8. We are on the honor system here folks. Be truthful about what and how you donate.
Most Wanted Foods:
Canned meats (i.e., tuna, chicken, salmon)
Canned and boxed meals (i.e., soup, chili, stew, macaroni and cheese)
Peanut butter
Canned or dried beans and peas (i.e., black, pinto, lentils)
Pasta, rice, cereal
Canned fruits
100 percent fruit juice (canned, plastic or boxed).
Things that cannot be used:
To ensure food safety, Food Banks cannot use:
Rusty or unlabeled cans
Perishable items
Homemade items
Noncommercial canned or packaged items
Alcoholic beverages, mixes or soda
Open or used items
Gifts and Prizes:
We are going to offer an assortment of free prizes. For every person who makes a food donation your name will go into a drawing for an assortment of free gifts and prizes. We will let you know what they are as we go along.
Other Donations:
If you want to do more than donate food, there are is a giant listing of activities you can do here. From Donating funds and time so check those options out as well!
I whole heartedly agree with the Kona Bay President that quilters are the most giving and caring people around. So get out there and show the world what we can do!
Happy Day!
Heart
blog.hearttohandonline.c
om/?p=347