Bowling for a lesson worth more than dollars!
Sunday, September 14, 2008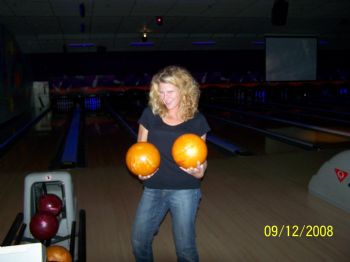 I went bowling Friday night with a couple of friends. I haven't been bowling in years, it was fun. I may have had a few too many drinks but, that made it even more fun! I bowled a whooping high score of 89! Oh Yeah, I am terrific bowler! haha
Just for the heck of it, I put it my fitness tracker and it said I would have burned 180 calories for an hour of bowling but, the tracker doesn't have running around like an idiot with a bowling ball overhead OR being silly using them to bicep curl and asking everyone to feel your guns. BTW, I was doing that BEFORE the drinks, I am a character! I like ME!
Which leads me to, not everyone "gets" me, and that is okay! I was accused recently of being "selfish", REALLY??? Selfish??? Hmmm? THANK YOU!!! (they don't get it Sarah!) Yes, I am guilty of creating the life I want!!! Do I really have to apologize for that? I don't think so!! The picture above proves... I have BIG Balls!! And I will continue to pursue the life I want, even if there are people around me who don't understand or try to side track me. I LOVE ME!!! How many people can say that?
Keep learning, doing, and progressing! I am behind you all for doing just that!
Hugs and all my Love to those that "get" me and this blog! I love ya!