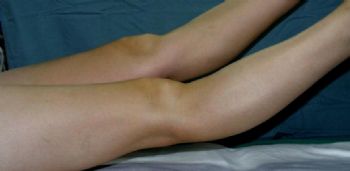 Those aren't my legs, but my knees have the exact same problem. They bend backwards! (Which totally creeps my husband out LOL) Well, the technical term is "hyperextended knees" Right now, I am resting, icing and elevating my knees...but let's backtrack...
When deciding to buy a piece of cardio equipment, I was initially looking for a treadmill. My husband really encouraged me to get an elliptical trainer though. I have had bad knees for years and he thought the low impact elliptical would be the best bet. I conceded and we sank $1200 into an elliptical with part of our tax refund this year. Now, this elliptical is soooo nice. It is totally sturdy, has an awesome console with all sorts of options, workouts, an Ipod dock and iFit capable.
However, it was hurting my knees.
Isn't that wild? I did some research and found out that I am not the only one with this problem. The problem was that I was holding my feet parallel and that isn't my natural stride. So I paid attention to how I actually walk and place my feet and adjusted my foot placement. Constant knee pain on the elliptical was solved.
But then the next problem occurred. My knees kept randomly hyperextending on the downswing sometimes. So my knee would bend backwards and, since my weight would be pushing on that leg on the downswing, I would suddenly be in excruciating pain because my body weight just jammed my knee into bending backwards. It sucks and puts the knee into bad shape for quite a few days. It will happen sometimes if I am sleepy and am trying to walk somewhere and then I will step onto the knee and it will be bent wrong and then BAM. So, in perseverance not to use a $1200 machine as a clothes rack, I pushed myself to find a way to keep my knees from hyperextending. I found that if I flex my quad on the downswing, I can keep it from bending backwards and jamming. So each workout is an act of concentration and focusing on not letting my knees jam...which is hard when your body is already screaming at your to stop.
So, yesterday, I got home from school around 4:30. We had plans to go out that evening. I felt selfish, but I asked my husband if we could delay the evening plans long enough for me to work out, shower, and get around all over again. I knew that if I didn't do it before we left, I would not be able to get a work out in. So, in a rush to get started and get out of the house asap, I quickly changed into work out clothes and hopped onto the machine. My husband came back into the bedroom where I was working out and asked me if I had stretched. I hadn't so he suggested I workout for 5 minutes and then stretch so I can get a really great stretch since I would be warmed up. So that is what I did. I got back onto the elliptical after stretching and had started working out again when my husband asked me what resistance level I was on. I hadn't turned up the resistance level, and I didn't want it on a high resistance level, but I knew that he had been toying with them a few days ago. Concerned, I started trying to figure out how to check the resistance level without changing it. And then - BAM! - my left knee bent backwards with such force that I nearly fell off. ( I was only holding on with one hand because I was fiddling with the display) After a few minutes of trying to regather my composure, I decided to just try and see if my knee could handle the workout. But with every swing, my knee was literally quivering and hurting like crazy cakes.
I was so frustrated at myself. Determined to work out, I went to the floor and babied my knee through some abdominal and upper body workouts. In the shower, I set the shower wand to massage and ran really hot water over my knee for a good 10 minutes or so. It was feeling pretty bearable so I decided I was still up for going out for the evening.
We went and had dinner at Chili's and I totally behaved! I had guiltless salmon, garlic and lime shrimp and, instead of loaded mashed potatoes and steamed vegetables, I asked for just a double order of steamed vegetables. It was soooo good and I was able to save half the salmon and veggies for today.
So then we went to Best Buy to return a router and look at a replacement computer for my daughter. (She is 7 but her starter computer she got her her 4th birthday wasn't able to handle her software requirements anymore) We ended up getting her a rockin' computer, new 19inch widescreen monitor and the Wii game Active Life Outdoor Challenge. (It has a mat like the DDR but can handle two people and has a variety of games.) I am hoping adults can play it too because that would be a great way to get in some extra movement and play with her. However, on our way to go checkout and drop almost a grand into Best Buy's piggy bank, I was walking a little bit slow because my knee was hurting. My husband was pushing a flatbed type shopping cart for carrying large things and didn't realize that 1) I was moving slow and 2) exactly how long the cart extended. I was mid-stride when he accidentally rammed the cart into the back of my right heel which not only hurt my heel, but, because it stopped me mid-stride, tweaked my right knee. It hurt sooooo bad. It was all I could do not to start bawling because I knew if I started to cry I wouldn't be able to stop because it would turn into crying from the embarrassment of crying. It's a vicious cycle. lol
So today, I am in the recliner, with ice on my elevated knees, and relying on anti-inflammatories. I have a laptop on a lap desk with me. I did some research on hyperextended knees. I found that often times it is an injury that occurs like when someone lands on their knee wrong and then it recovers. But there are others like me who can bend their knees backwards on a whim. (It only hurts when I land on it with my weight while it is bent backwards) I also found that ballet and synchronized swimming instructors will push dancers to stretch their knees so much that they can hyperextend and get super straight leg lines, despite the risks. I did find that there are some special knee braces that try to help prevent the knee from hyperextending.
I also found a yoga site that was addressing hyperextended knees and trying to give exercises that will help keep the knees from hyperextending. I found out that if you tighten your quad while stetching your legs, it will keep those tendons in the knees from getting so stretched out that they bend backwards so easily. So I will definitely start doing that in case the stretching was increasing the chances of hyperextension on the elliptical. So if anyone else has the same problem that I do, let me know and I can send you some of the helpful links that I found.
I am really tempted to go to the Dr. and try to see about getting a specially fitted knee brace. The ones in drug stores are typically either too tight for my thighs or get stretched out and fall down. It seems like every doctor's response is that main thing I can do to help my knees is to lose weight. I know that. I don't need a doctor to tell me I am fat. I can see that in the mirror every day. But it is hard to lose weight when I can barely exercise due to my knees. I have been to various doctors and the response has always been wear good sneakers, ibuprofen, drugstore knee brace and, most importantly, lose weight. I just hope my knees can hold up long enough to let me lose weight and finally be able to stop abusing them.