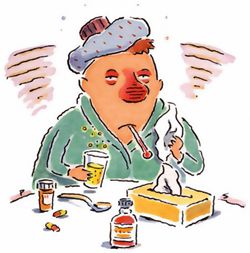 I'm feeling puny. My DH was sick the last few days and now it looks like my turn.
This really doesn't fit into my plans.
I just started a new work out plan. That's the way it goes, right.
I turned to the Spark People articles for advice on exercising when you are sick. I copied this article for myself to refer to... and for any one who hasn't read this yet~
"Is it okay to exercise when you have a cold?
Great question! When you are sick, you need to pay careful attention to what your body is telling you. If the cold is primarily in your head, it's okay to exercise, just at a lower intensity (provided you feel okay and have enough energy). Once you are feeling 100% again, then you can slowly increase your activity back to your pre-illness level. If your feeling sluggish or the workout isn't going well, don't push it. When you push too much, the sickness can end up hanging around longer.
If your cold is below the neck (in your chest), try to refrain from activity until it clears up. The best thing you can do for your body when it's trying to fight a bug is to give it rest.
Written by Jen Mueller, Certified Personal Trainer "
So, today I'm going to rest. I work a 10 hour day... I'm at work now and I'm at lunch.... I AM DRAGGING!!!! I'm so achy and tired. I took some daytime cold medicine I picked up from the drug store down the street at break. I drank a 2 serving bottle of calorie dense orange juice and I'm sipping Gatorade's new drink - G2.
So... I work 7am - 5:30pm and when I'm done here... I'm going home --- get my comfy clothes on and chill out.
That sounds right. Even though I really want to hit the gym and do my pre planned workout routine, my body says.... hey 10 hour day and I'm being attacked by some cold/flu bug???? Gimme a break!!!!!