Up above the world, so high
Wednesday, September 10, 2008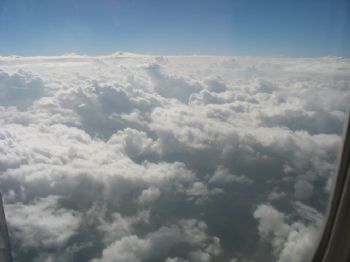 This picture is a view from 35,000 feet in the air. I love the way the clouds look from a plane...but I can't see the land, let alone the people. To me, they are hidden.
Isn't it so amazing that God can see through the clouds, all the may to my heart. Through all the trees, the rain, the fog, the sin...and when He sees me, He sees the blood of Jesus covering me. And He smiles.
The awesomeness of God gives me strength each new day, gives me sanity, lowers my stress levels, encourages me...Wow!! He is truly amazing.
I think the next time I am on a plane, I will view the clouds differently. Before today, they represented a beautiful covering to reality below...now they are just as glass as God peers through to my very soul. Nothing can block the eyes of the Lord, nothing is hidden from Him.
Nothing is secret.