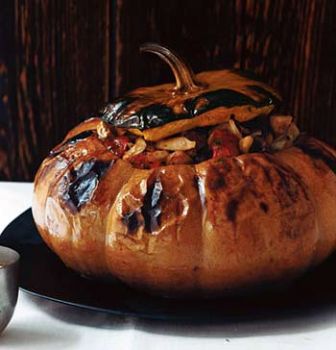 Stew in a Pumpkin
This is a GREAT recipe that is so simple and yet so stunning when it is served. Perfect for Halloween or for any Autumn meal. Use what ever veg you have and the quantities are basically up to you - you can make as little or as much as you want. You can choose to use one large pumpkin to serve or individual smaller ones - the choice is yours.
Open top of pumpkins as you would for making a jack-o-lantern and remove pulp and seeds from inside.
Ingredients
1 large pumpkin or smaller individual sized pumpkins
Potatoes
Turnip
Carrots
Onions
Leeks
Swede
Parsnips
Garlic
Bay Leaf
Parsley
Olive Oil
Bisto gravy granules (or any other powdered stock that thickens water when it is added))
Marmite ( even if you don't like it, I have served this to people who say they hate the stuff yet they love this recipe ) If you can't get Marmite or Vegemite then a few splashes of Soy Sauce will do
Water
Method
Boil the potatoes, drain and set aside. Peel and chop all the veggies to whatever size you want.
Put some olive oil in a big pan and add the Onions, Garlic and Leeks, fry gently for 5 mins then add all the other veggies (not the potatoes). Cook for 15 mins stirring to make sure nothing sticks to the pan.
Add water, as much as you want, pop in the bay leaf, cover and simmer for 1 hour on a low heat.
Stir in the gravy granules to get the consistency you want, add a teaspoon of marmite and the Potatoes and cook for another 2 mins stirring often.
Season with salt and pepper.
Turn oven on to 180 degrees
Place pumpkins in shallow pan and place stew inside pumpkins. Brush the outside of the pumpkins with oil. Bake pumpkin and stew about 1 - 2 hours (depending on size) or until pumpkins are tender.
Serve immediately.
The pumpkin should be eaten with the stew.