Run Wild for Detroit Zoo
Monday, September 08, 2008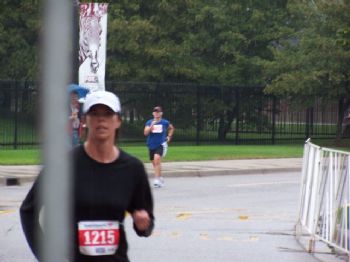 I did it! I ran my first ever 5K. It was raining and cold, but I did it anyway. It was great to hear my husband and son yelling "run, Momma, Run" as I neared the finish line.
I have to admit that I never would have imagined running a 5K, but this past year has taught me that anything is possible. Next year, I'll aim for a 10K.
BTW...I'm the one in blue in the background. DH was having camera difficulties and this was the best shot he could get. It had to be hard to balance a 5 year old, an umbrella, and a camera.