Pressing Forward to Obtain the Goal!
Saturday, September 06, 2008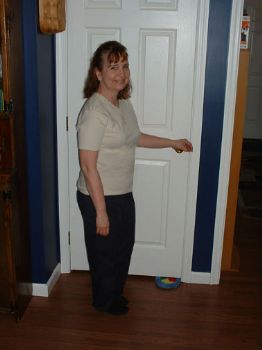 I've been at this for over a year now and I've reached that point where I've gotten a little sidetracked and off course and need to recommit. I've lost 45 pounds and feel amazingly better than I did when I started this journey. I can't even really remember being that big.
This summer was a busy one with weddings and then getting Tracy ready to go back to college and into her first apartment. I've gotten off track with my eating and my exercise and I can tell. I'm lethargic, grumpy and depressed. My house is a mess and I've got sooooo many things I want to do; I feel pulled in 17 different directions and as a result I don't feel like I'm being effective in any one thing. I liked myself much better when I was eating salads and feeling good.
So it's time to recommit! Tomorrow I'm going to the Rec Center to join the cardio classes there. Penny and I are going to go every morning to a different class. It'll help alot having an exercise buddy! Exercising more will help my eating. Both will help my mood!
Starting right now I'm done with stinking thinking! I'm telling those voices in my head that have been saying I've lost enough weight to SHUT UP! If I feel this good now -- Just think how good I'm going to feel after I lose the next 45!!
My goal is to lose 15 pounds by the time Tracy comes home for Thanksgiving. That will make me no longer obese! That gives me 11 weeks to lose 15 pounds -- I can do that!
When I hit that mark I'll set my next STG. If I keep focused on one STG at a time, I'll make it! No More Munching!!
(Picture is the virtual image of me at 135 pounds)