I MADE IT TO O'HARE!!!!
Friday, September 05, 2008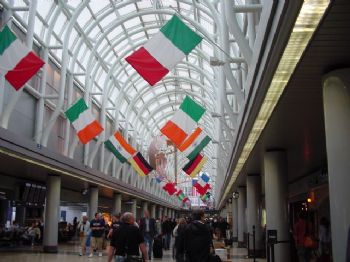 I STARTED THIS ADVENTURE AS A CHALLENGE FOR THE MOST WONDERFUL TEAM AROUND. I ADDED 1 MILE A DAY TO MY BIKE RIDE AND ENDED UP GOING A DISTANCE OF 108 MILES IN 6 DAYS.
WHEN I STARTED I DECIDED THAT I WOULD CHOOSE O'HARE AIRPORT. NOW, I COME FROM A SMALL TOWN NORTH OF CHICAGO. I DON'T REALLY LIKE GOING THERE BECAUSE THERE IS TOO MUCH TRAFFIC AND IT SEEMS LIKE PEOPLE ARE EITHER IGNORING EACH OTHER OR YELLING AT EACH OTHER TO GET OUT OF THEIR WAY.
NOW I KNOW THAT MY DESCRIPTION OF CHICAGO IS NOT A VERY FAIR ONE. I THINK TO ENJOY THE CITY ,YOU NEED SOMEONE WHO KNOWS THE CITY AND LOVES IT. THEY ARE THE BEST TO SHOW YOU WHAT THE MOST FUN ASPECTS ARE.
SO RIDING THERE I WENT THRU A LOT OF SMALL TOWNS AND FARM LAND, WHICH IS WHAT I LIKE. I DID GO THRU DEKALB, ILLINOIS. THAT IS THE HOME OF NORTHERN ILLINOIS UNIVERSITY. MY OLDER BROTHER GRADUATED FROM THAT COLLEGE. AFTER THAT YOU ARE MOSTLY IN THE SUBERBS OF CHICAGO, WHERE ONE COMMUNITY MELDS WITH THE NEXT.
YOU CAN TELL WHEN YOU ARE GETTING CLOSER TO THE AIRPORT. THE PLANES GO OVER YOUR HEAD AND IT FEELS LIKE YOU COULD JUST REACH UP AND TOUCH THEM. I REMEMBER BEING IN THE AIR AND LOOKING OUT THE PLANE WINDOW. THE CLOUDS ARE SO SOLID LOOKING THAT IT SEEMS LIKE YOU CAN WALK ON THEM. THAT IS THE WAY I FEEL WHEN THE PLANES GO OVER.
THERE IS NOTHING THAT COMPARES TO THE HUSTLE AND BUSTLE OF THE AIRPORT. THE MASSES OF PEOPLE IN THERE IS PRETTY OVERWHELMING TO ME. I'M SURE THAT THERE ARE A LOT OF PEOPLE WHO FLY ALOT OR ARE USED TO PEOPLE BEING ALL AROUND, BUT I'M NOT.
ALL IN ALL MY RIDE HERE WAS PLEASANT. SOME DAY I WOULD LIKE TO SPEND A WEEKEND IN CHICAGO WITH SOMEONE WHO KNOWS THE CITY. GEE, I WONDER IF OPRAH IS UP FOR THE CHALLENGE......