We'll be welcoming Kai Sebastian!
Wednesday, September 03, 2008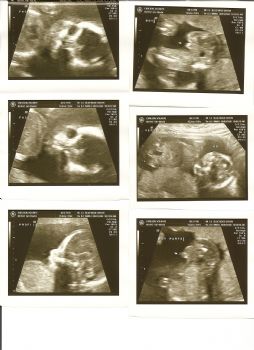 So after being at the dr's office for 2 hours, i was able to come home.. do y'all know how HARD it was to sit on this information?? I was right! For once my instinct was right! It's a BOY!! yep! Kai Sebastian is the name we've picked out for a boy.
I'm gonna attempt to upload the scan of the u/s pics that were taken today. i've never had so many sent home before!! usually just one maybe 2..but i got 8!! Granted some are the same 'type' of shot..but still!! I'm REALLY lovin' this dr's office!! :D
I'll also be uploading the pics to my photobucket account. i'll post the link once i do, so if you're interested in seeing the alieum in my 'belly' more clearly you can :)
According to the dr's i've only gained about 4 pounds so far..this is since the beginning of June. not bad if i do say so myself! :) My BP today was 96/59 i was thinking..am I alive?? ROFL!! the BP machine had to catch my arm a 2nd time to catch a reading..let me tell ya..those automated ones HURT LIKE H3LL!! I got a referral to a PCP, as i do not have one, and where i'm having real issues now with my allergies as Fall is upon us (well in the northern hemisphere) and my asthma deciding to rear it's ugly head, it's best to have a PCP just in case i get sick. But well this will all unfortunatley have to wait until I get some sort of insurance..as we just CAN'T afford to pay out of pocket. i couldn't even pay my 'full' amount on my plan today because of DH's loss of job last month. we're ALMOST out of the hole, but not quite yet..
OH!! If you're feeling Particularly generous..i've set up a baby registry, as i may have mentioned that much of what we did save was ruined due to moisture in our crawl space, and other stuff was just broken due to use. so if you'd like to take a peek it's here:Target Baby Registry
www.target.com/registry/
baby/27MR6LXJURLXO/guestview
You don't have too, but i know some people just LOVE to buy for babies ;) me being one of them, when i've got the extra cash..hehe!
thanks for 'playing guess the gender' winners received Pedicures! Congrats Ladies!!