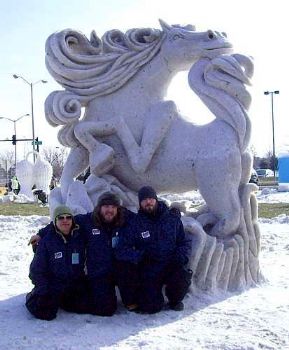 OK, SO I DECIDED TO WRITE A LITTLE BIT MORE ABOUT MY BIKE TRIP TO O'HARE AIRPORT. I KNOW, YOUR ASKING YOURSELF, 'WHY WOULD ANYBODY RIDE A BIKE TO AN AIRPORT'? WELL, IT WAS WHERE I DECIDED TO GO AND PICK UP MY FRIEND MAURI. SHE IS COMING TO CHICAGO TO SHOW ME AROUND. APPARENTLY SHE LIVED THERE AND HAS FAMILY THERE. MAYBE SHE CAN MAKE ME SEE THE BEAUTY OF THE CITY. IT IS USUALLY THE LAST PLACE I WOULD CHOOSE TO GO. BUT CHICAGO AT CHRISTMAS TIME IS JUST BEAUTIFUL. WALKING DOWN THE STREET( I THINK IT IS MICHIGAN AVE) AND LOOKING AT THE STORE WINDOWS, IS LIKE BEING IN A MOVIE. THEY ARE GORGEOUS.
GETTING TO CHICAGO IS NOT ALL THAT SCENIC. THERE ARE SMALL TOWNS ON THE WAY. YESTERDAY I WENT THRU MARENGO, IL. I CHOSE TO TAKE BUSINESS 20 INSTEAD OF I 90 TO GO TO CHICAGO. NOT A LOT OF DIFFERENCE.
THE TOWN/VILLAGE OF MARENGO HAS :
6,355 RESIDENTS
14 CHURCHES
4 PARKS
5 ELEMENTARY SCHOOLS
1 HIGH SCHOOL
1 CATHOLIC HIGH SCHOOL
VOLUNTEER FIRE DEPT
1 POST OFFICE
MARENGO IS A NICE LITLE TOWN. I DON'T GO THERE MUCH. IT WAS ESTABLISHED SOMEWHERE AROUND 1835 BY A GERMAN .
IT IS FUNNY , WHEN YOU START SOMETHING LIKE THIS YOU WANT TO TELL PEOPLE ABOUT WHERE YOU COME FROM. IT IS AMAZING HOW LITTLE I KNOW. I CAN TELL YOU THAT BY GOING THIS ROUTE THE AIR IS BETTER. LESS EXHAUST TO CLOG THE LUNGS. OF COURSE WHEN YOU GO BY A FARM WITH COWS OR PIGS, I CAN'T GUARANTEE THE QUALITY OF THE AIR. IT DOESN'T REALLY MATTER WHAT THEY ARE FED I DON'T THINK. IF YOU HAVE EVER BEEN FORTUNATE ENOUGH TO SMELL SILAGE, YOU KNOW WHAT I MEAN. IF YOU ARE PLUGGED UP, THERE IS NOTHING BETTER TO OPEN THE AIRWAYS.
I DO THINK I SAW A FEW OF MAMAS' COUSINS OUT THERE. I RAISED MY HAND IN THE SACRED COW WAVE. I DON'T HAVE HOOVES LIKE MAMMA SO I HAD TO IMPROVISE.
IN THE LAST 2 DAYS I'VE RIDDEN 36 MI. IT HAS BEEN A VERY QUIET RIDE AND THE WEATHER HAS BEEN BEAUTIFUL. THE REST OF THE WEEK IT IS SUPPOSED TO RAIN SO I WILL HAVE TO PUT ON MY SLICKER. I HAVE 51 MILES TO GO.
THE PICTURE I CHOOSE FOR THIS IS ONE OF THE YEARLY SNOW SCULPTURES . THERE IS A CONTEST EVERY JANUARY IN ROCKFORD. IF THE WEATHER COOPERATES. SOME YEARS THERE ISN'T ENOUGH SNOW. I THINK THEY BROUGHT SOME IN ONE YEAR. LAST YEAR IT WAS TOO WARM. IT ALL MELTED.
WELL THIS IS ABOUT THE EXTENT OF MY RIDE THE LAST TWO DAYS. OUT HERE IT IS ALL OPEN FARM LAND , COWS AND SUBDIVISIONS. EVEN THE FARMERS ARE GETTING TIRED OF THE BS. SO THERE YOU HAVE IT. NOT SURE WHAT TOMORROW WILL BRING. I AM GETTING CLOSER TO THE BIG PLANES.....